Earlier this month an old friend of mine, who'd worked for me twenty years ago, posted this status update on Facebook. He'd obviously had a bad day at work and seen a colleague be treated pretty badly. I was very flattered that he chose to write what he did and it set me thinking that it really is the people that matter in business.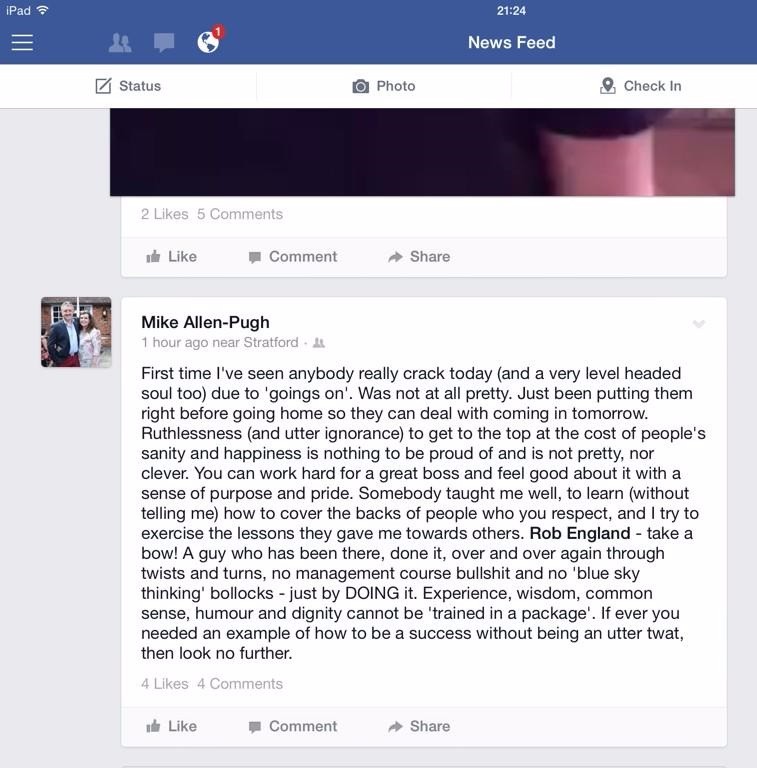 I have always believed that you absolutely must try and recruit the best and the right people, and once you've got them, look after them well and they'll stay with you through thick and thin, looking after you and the business many times over. Equally, you must try and get rid of the wrong people quickly as they tend to poison the atmosphere and cause resentment.
I also don't think it's a money thing; you can look after the right people with gestures of goodwill, compassion, understanding and by cutting them some slack when they need it the most. I've sent people on holiday, with the company paying for it, when they've been working long hours non-stop and are getting close to burn-out. I've sent a group of girls to the races for the day, with a slap-up lunch included, as a thank you for dealing with an office move, including lugging all the furniture around while the guys made excuses, hid in the corners and left them to it.
If someone has been on-site all week, away from home and living in a hotel, tell them to take their other half out for dinner at the weekend and put the bill on their expenses. It doesn't take much for the gesture to be appreciated, it might be as simple as sending them home early on a Friday or letting them go to a private appointment without taking it as holiday.
In return, you tend to get commitment, enthusiasm, a willingness to go the extra mile when necessary and loyalty. All traits that are vital to the success of a small business and all things that can't be purchased or taught. It would be easy to say the company shouldn't be paying for holidays, or days out, or that it can't afford them, but think about the time and cost of replacing the burnt out employee if they had resigned. Adverts, interviews, short lists, second interviews, waiting for the replacement to start and then giving them time to get up to speed. A £5k recruitment fee, three months disruption, all the lost knowledge or a few hundred pounds giving them a break?